Our team is mostly iPhone users, and our busy lifestyle in Brooklyn has us constantly connecting to different public Wi-Fi networks. This can be a bit risky for our online privacy. So, we decided to look into the best VPN for iPhone in 2023. We're eager to share our discoveries on how fellow Apple fans can maintain their internet security and stay protected while browsing.
What is a VPN for an iPhone?
Imagine your iPhone like it has a superhero cape every time you go online; that's what a VPN is like. It hides your identity and location when you browse the web.
A VPN turns your personal information into a secret code that nobody can decrypt, even your internet service provider. This helps protect your private information from hackers, especially when you're using public Wi-Fi, such as at your favorite cafe.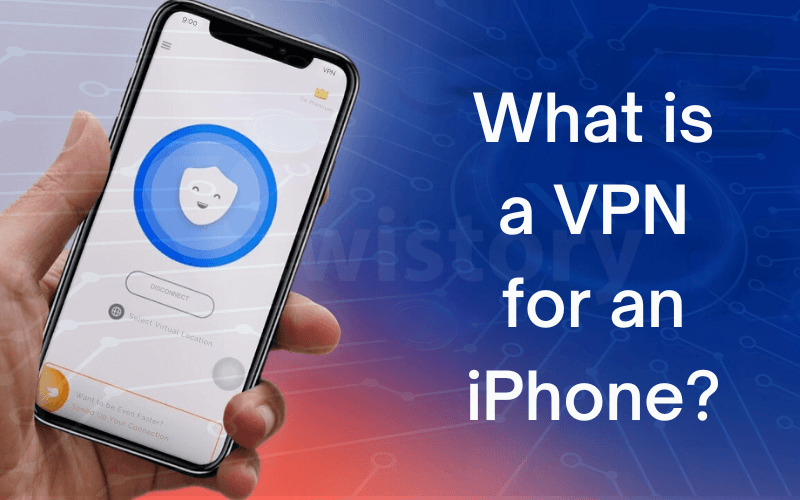 How does a VPN work?
When you use a VPN, all of your internet traffic is routed through a VPN server in another location. The VPN server encrypts your data before sending it to the internet. When your data reaches its destination, it is decrypted and sent to your computer or device.
For example, if you are in Vietnam and use a VPN to connect to a VPN server in the United States, all of your internet traffic will be sent through the VPN server in the United States. This will make the websites you visit think you are in the United States, even though you are in Vietnam.
Benefits of using a VPN
VPNs have many benefits, including:
Privacy protection: A VPN helps hide your identity and location when you browse the web, helping protect you from hackers and other third parties.
Access to blocked websites: A VPN can help you access websites that are blocked in your country.
Data protection when using public Wi-Fi: Public Wi-Fi is often unsafe, a VPN can help protect your data from being stolen when you use public Wi-Fi.
Top iPhone VPN Picks of 2023
NordVPN – stands out as the top choice.
Surfshark – is the go-to for streaming Netflix.
Private Internet Access VPN – For those watching their budget, offers great value.
ExpressVPN – wins for its user-friendly interface.
IPVanish – takes the lead with strong encryption features.
ProtonVPN –  is the prime option for torrent downloaders.
CyberGhost – impresses with its excellent customer service.
Comparing the Top VPNs for iPhone
| | | | | | | | |
| --- | --- | --- | --- | --- | --- | --- | --- |
| Attribute | NordVPN | Surfshark | Private Internet Access VPN | ExpressVPN | IPVanish | ProtonVPN | CyberGhost |
| Ranking | 1st | 2nd | 3rd | 4th | 5th | 6th | 7th |
| Ratings | 9.7/10 Best Overall | 9.5/10 Best for Netflix | 9.4/10 Best Value | 9.1/10 Best User Experience | 9.3/10 Best Encryption | 8.8/10 Best for Multiple Apple Products | 8.9/10 Best for Torrenting |
| Minimum Monthly Cost | $3.99 | $2.49 | $2.19 | $6.67 | $3.99 | $0 | $2.29 |
| Contract Length | 1 to 24 months | 1 to 24 months | 1 to 24 months | 1 to 12 months | 1 to 12 months | 1 to 24 months | 1 to 36 months |
| Netflix | Yes | Yes | Yes | Yes | Yes | Yes | Yes |
| Torrenting | Yes | Yes | Yes | Yes | Yes | Yes | Yes |
| IP Addresses | Dedicated, static | Dynamic, static | Dedicated, dynamic | Dynamic | Dynamic | Shared | Static, shared |
| Five Eyes, Nine Eyes and 14 Eyes Member | No | No | Yes | No | Yes | No | No |
NordVPN – Best in Privacy
NordVPN is a top pick for iPhone users seeking a strong VPN choice. It offers strong security features, including AES-256 encryption and the option to route your internet traffic through multiple servers. This means your data is protected by an extra layer of encryption, making it very difficult for anyone to spy on your online activities. Plus, you get your own unique IP address, so you don't have to share with others who might be involved in illegal activities.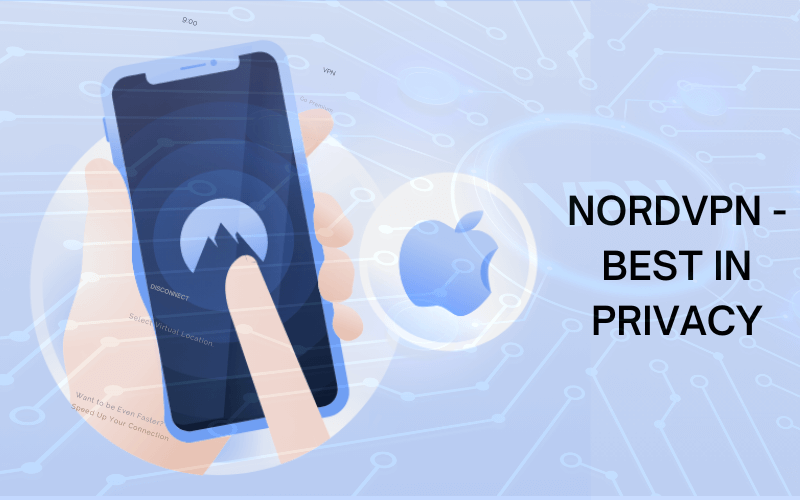 Here's the lowdown:
Editors' Rating: 9.7/10
Pros:
Excellent customer service, ready to help when you need it.
Allows torrenting, so you can download files securely.
They're serious about not keeping logs of your online whereabouts.
Top-tier encryption keeps your data safe and sound.
Cons:
The kill switch doesn't shut down all apps on iOS, just the internet connection.
Lacks split tunneling, which means you can't choose which apps go through the VPN.
Only offers static IP addresses, so your IP address doesn't change.
Some users find their customer support lacking.
Extra Security Layer
NordVPN uses what's called multi-hop encryption. This is like a security double-whammy, encrypting your data across several servers. While many VPNs only use one server, NordVPN goes the extra mile to keep your sensitive tasks even more secure.
Minimal Logging for Maximum Privacy
NordVPN does need to know your email and payment details (because, well, they've got to keep the lights on), but that's where the tracking stops. They don't keep tabs on when or how long you're connected to their VPN, which servers you're using, the sites you're visiting, or the files you're downloading.
Privacy Haven in Panama
Since NordVPN is based in Panama, they're outside the reach of the big international surveillance networks. That's a big plus for privacy, meaning there's virtually no chance they'll be forced to give up your data. So, you can browse with peace of mind, knowing your privacy is in good hands.
 Surfshark – Best for Everyday Use
Surfshark is a fantastic VPN for iPhone users, especially for those who love streaming shows and movies on Netflix. It's super quick and easy to download and set up the app, and before you know it, your online activities are hidden and secure.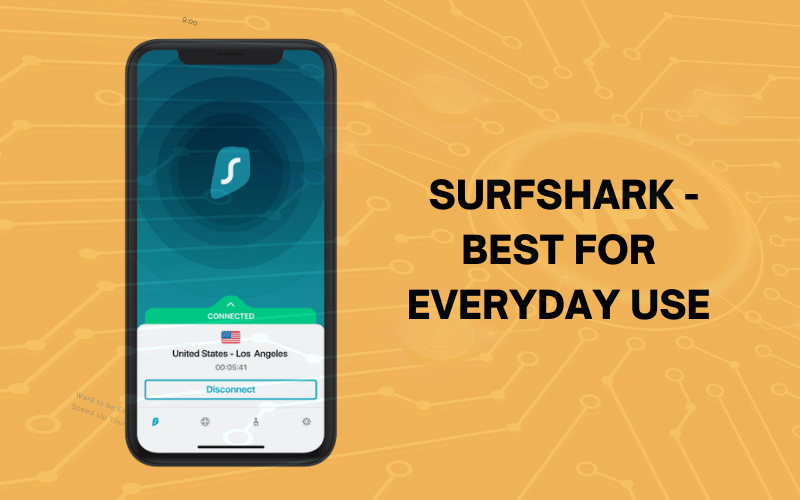 Editors' Rating: 9.5/10
Pros:
Stream to your heart's content on Netflix, Prime Video, and more without getting blocked.
Not part of the Five Eyes surveillance alliance, so your data is safer.
Offers split tunneling, which lets you choose which apps use the VPN.
Excellent for torrenting, keeping your downloads private.
Cons:
Can be a bit slow to connect sometimes.
Doesn't offer phone support if you're looking to speak with someone directly.
The monthly plan can feel a bit expensive.
Only students can enjoy a year-round 15% discount.
Netflix Anywhere
No need to pause your show binge just because you're on the move. Surfshark has got you covered, allowing you to access Netflix and other streaming services without being blocked, a common issue with many VPNs. So whether you're into movies, TV shows, or live streams, you can watch without interruption.
Military-Grade Encryption
When it comes to security, Surfshark doesn't play around. They use AES-256 bit encryption, which is the same level of security that the U.S. military trusts. That means your online activity and personal IP address are kept away from prying eyes.
Save More with Longer Commitments
Though the monthly plan isn't the cheapest, the long-term plans offer great value. If you go for a one-year subscription, it breaks down to about $3.99 per month. Opt for a two-year plan, and you're only paying $2.49 a month. So if you're considering Surfshark, it's worth thinking about a longer subscription to save some cash.
Private Internet Access VPN – Best Value
Private Internet Access (PIA) VPN is a real bang for your buck if you're looking for a VPN that doesn't break the bank. It offers a lot of punch at a low cost, starting at just $2.19 per month.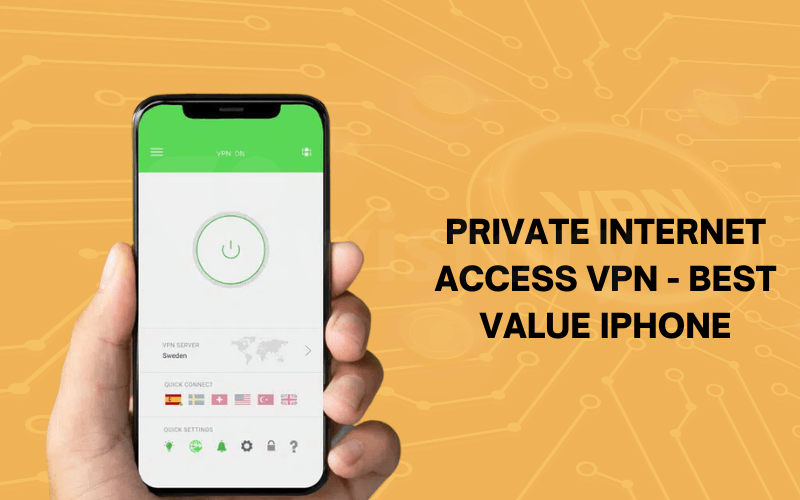 Editors' Rating: 9.4/10
Pros:
Around-the-clock live chat support is always there to help.
Keeps very few logs, so your privacy is a top priority.
Offers a seven-day free trial on iOS, so you can try before you buy.
Users love the app — it's got great ratings for being reliable.
Cons:
You won't find split tunneling on iOS, so it's all or nothing.
To get the best prices, you're looking at signing up for a three-year stretch.
There have been some grumbles about the iOS app having connection issues.
Being US-based might make privacy buffs a bit nervous due to strict data laws.
Top-Notch Value
PIA gives you the essentials like a kill switch and strong encryption, plus some nice-to-have features like VPN snooze and leak protection. Although it lacks split tunneling on iOS, it's packed with plenty of other features that make it worth considering.
Customizable Network Settings
PIA is a playground for those who like to tweak settings. You can play around with your VPN protocol, encryption strength, and even DNS settings. It's rare for an iOS VPN to offer so many options, and that's a big win for iPhone users who like to have control over their VPN's performance.
Straightforward and User-Friendly
If you're not the tinkering type, no worries. PIA keeps it simple too. The app is super easy to use; just open it up and tap the big power button to get connected. Even though it's not perfect, PIA stands out as one of the top choices for iPhone VPN users looking for a straightforward and value-packed service.
ExpressVPN – Best User Experience
ExpressVPN stands out as a top option for iPhone users, packing a punch with its combo of minimal logging, speedy connections, and the handy feature of split tunneling. This means you get a smooth experience while keeping your online activities private and secure.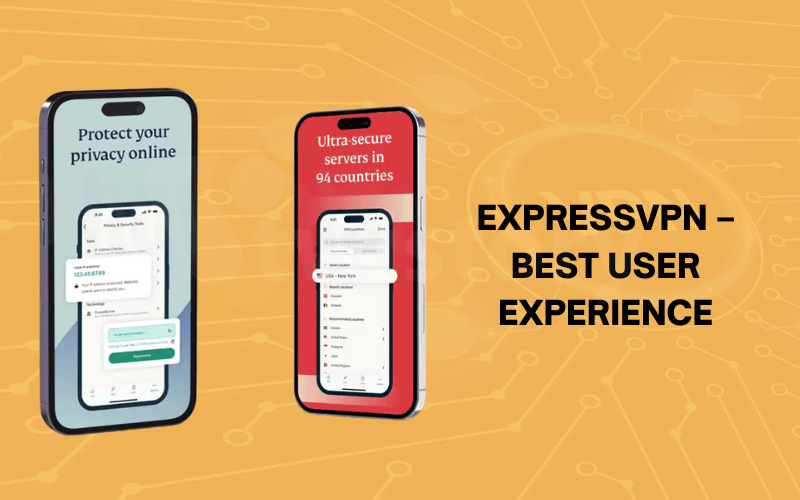 Editors' Rating: 9.1/10
Pros:
Unrestricted access to Netflix, so you can stream your favorite shows from anywhere.
The app is a hit among users for its reliability and ease of use.
Located in the British Virgin Islands, which keeps it away from prying international surveillance alliances.
A vast network with over 2,000 servers across 148 locations, giving you lots of options to connect.
Cons:
It's on the pricier side compared to other VPNs.
You can only use it on five devices at the same time.There's no option to call customer service if you prefer talking over typing.
Some users report it's a bit slow on Mac computers.
Change Up Your IP
ExpressVPN keeps your online presence extra elusive by switching up your IP address every time you log in. This is great for throwing off anyone who might be trying to keep an eye on you.
Headquartered in Safe Haven
The British Virgin Islands is where ExpressVPN calls home, and this is good news for privacy. This location means it's not beholden to the data-sharing laws of the Five Eyes, Nine Eyes, and Fourteen Eyes countries, so they can't be strong-armed into giving up your data.
Convenient Split Tunneling
With split tunneling, you don't have to choose between a VPN and your local network; you can use both. This is perfect for when you need to access public and private networks at the same time without the hassle of switching anything on or off. ExpressVPN lets you surf the web freely without missing a beat.
IPVanish – Best Encryption
IPVanish takes your online security to the next level, allowing you to hook up ten devices at once, which is a real treat for tech-savvy households or small businesses. It's also a top-notch choice for torrenting enthusiasts, thanks to its speed and server variety.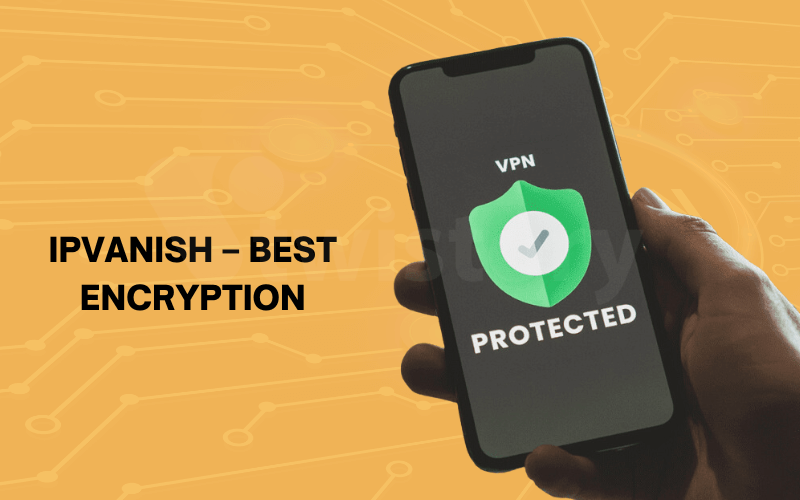 Editors' Rating: 9.3/10
Pros:
Offers split tunneling so you can manage what goes through the VPN.
Connects up to 10 devices simultaneously — great for when everyone wants in on the action.
Provides fast download speeds, so no more staring at the loading icon.
Fully supports torrenting, keeping your downloads under wraps.
Cons:
There have been instances in the past where customer logs were shared.
Being based in the U.S., it's subject to strict data retention laws.
Netflix streaming can be hit or miss.
Users have reported that it can be sluggish on Windows systems.
Top-Tier Customer Service
IPVanish stands out with its commitment to customer service, offering 24/7 live chat, email support, a detailed FAQ for quick answers, and they even throw in a phone line for direct help.
User-Friendly iOS App
The IPVanish app on iOS is a breeze to use, which is perfect for when you're out and about. With high praise and a 4.5-star rating from over 45,000 users on the App Store, it's clear that it's not just us who think it's a solid choice.
Worldwide Server Presence
With over 40,000 IP addresses and servers in more than 75 locations, IPVanish has got you covered globally. Whether you're jet-setting or just hopping to the local café, your internet connection will be swift and secure.
ProtonVPN – Best for Torrenting
ProtonVPN is a solid choice for anyone looking to torrent or stream content like Netflix securely. With servers in over 40 countries and hailing from privacy-friendly Switzerland, you can expect a reliable and speedy connection with minimal fuss about your data being tracked.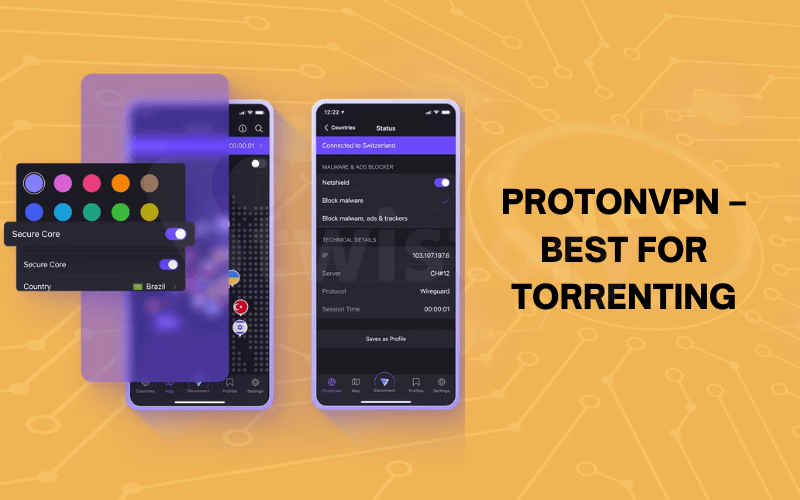 Editors' Rating: 8.8/10
Pros:
Doesn't keep tabs on your browsing history, so your activity stays your business.
Torrenting is a go, making it a haven for sharing and downloading files.
Swiss base means strong privacy laws are in play, keeping your data safer.
Comes with a kill switch that cuts your internet if the VPN drops, keeping you invisible.
Cons:
The pricing structure can be a bit tricky to get your head around.
Customer support options are somewhat limited.
You'll be sharing IP addresses with others, which isn't ideal for everyone.
Mac users might find it a tad slow.
Safety Net Kill Switch
ProtonVPN's kill switch is like an emergency brake for your internet connection; it snaps into action if your VPN connection drops, preventing your online deeds from being revealed.
Commitment to Privacy
They're pretty hush-hush over at ProtonVPN, only keeping necessary info like your email and payment details. They're transparent, too, offering reports so you can see exactly what they track (or don't track).
Torrent-Friendly
For those who love a good download, ProtonVPN welcomes torrenting. Go for the Plus subscription, and you'll be whizzing through your downloads with ease. Their servers are specially optimized for peer-to-peer sharing, so you can indulge in your favorite content without a hitch.
CyberGhost – Best Customer Support
CyberGhost offers a wallet-friendly VPN solution that doesn't skimp on features. With customer service that's there when you need it and the ability to unlock Netflix, it's a solid choice for the budget-conscious. Plus, with a vast network of over 5,500 servers in 90 countries and being based in Romania, you can browse with confidence, knowing your data is out of reach from nosy governments.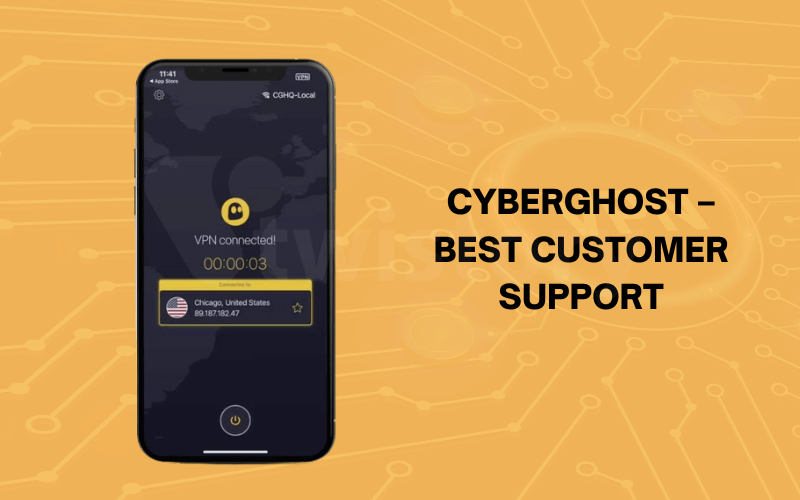 Editors' Rating: 8.9/10
Pros:
Top-notch customer support that's ready to help, anytime.
Wallet-friendly prices that make VPN protection accessible.
Not part of any major international surveillance networks, so your privacy is better protected.
An expansive server network means you're likely to get a fast and secure connection wherever you are.
Cons:
Lacks split tunneling, so you can't use public and private networks simultaneously.
Some users find it a bit sluggish on Windows machines.
Only offers static IP addresses, which don't change with each session.
Their logging policy may be a concern for the privacy-minded.
Save More in the Long Run
With CyberGhost, the longer you commit, the less you pay per month. Opting for a month-to-month subscription costs $12.99, but if you sign up for a year, it drops to about $4.29 monthly. The savings are even greater with two-year and three-year plans, the latter offering three bonus months free. It's a great deal for long-term security.
Ready to Help Customer Service
Even though there's no phone support, CyberGhost's 24/7 live chat means help is just a message away. And for common questions, there's a handy FAQ section that's easy to navigate.
Streaming Galore
For those of us who see Netflix as an essential, CyberGhost has got you covered, allowing you to stream to your heart's content. While some UK content might cost extra, the ability to access other streaming services like Hulu, Amazon Prime Video, ESPN, and Crunchyroll more than makes up for it. It's a thumbs-up for streamers on a budget.
How We Chose The Best iPhone VPNs
Evaluating VPNs involves a comprehensive assessment of various factors that contribute to their overall performance, security, and usability. Here's a detailed breakdown of how VPNs are typically tested: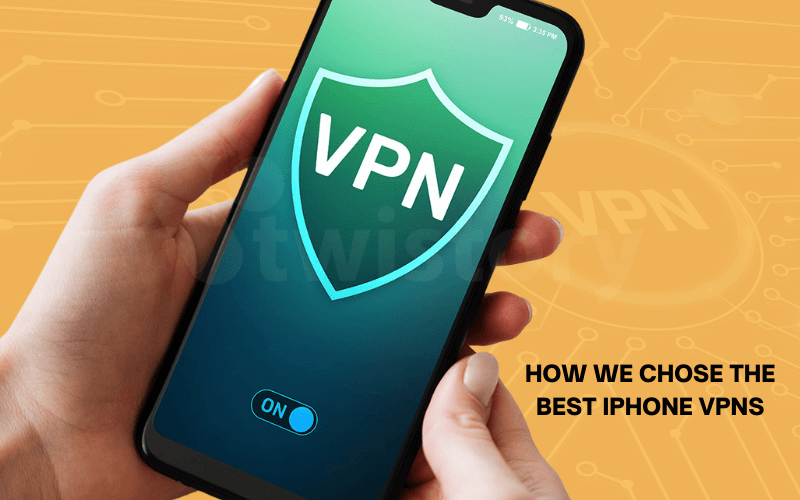 Speed Performance
Speed is a crucial aspect of VPN performance, as it directly impacts browsing, streaming, and downloading activities. To measure speed, VPN reviewers utilize speed testing tools like Ookla Speedtest and Speedtest.net. These tools provide download, upload, and ping latency measurements, allowing for comparison between different VPNs and evaluating their impact on internet speed.
Security and Encryption
Security is paramount for VPNs, as they handle sensitive user data and protect online privacy. Reviewers assess VPNs based on the encryption protocols they employ. Strong encryption algorithms like AES-256 and SHA-256 are considered essential for robust protection. Additionally, they check for features like DNS leak protection, IP leak protection, and a kill switch, which ensures that data is not exposed in case of a VPN connection drop.
Logging Policy and Privacy
VPN logging policies reveal the extent to which user activity is tracked and stored. Reviewers scrutinize logging policies to determine what data is collected, how long it's retained, and under what circumstances it might be shared with third parties. Ideally, VPNs should adhere to a minimal logging policy, retaining only essential data for troubleshooting purposes and discarding it promptly.
Server Network and Locations
A wide server network with diverse locations is crucial for bypassing geo-restrictions and accessing content from around the world. Reviewers evaluate the number of servers, their geographical distribution, and their ability to unblock streaming services like Netflix and BBC iPlayer. A VPN with a large and well-distributed server network offers greater flexibility and access to global content.
Device Compatibility and Apps
VPN services should be compatible with a wide range of devices, including desktops, laptops, smartphones, and tablets. Reviewers test VPN apps on various platforms to assess their ease of use, features, and compatibility with different operating systems. A user-friendly and compatible VPN app ensures seamless installation and operation across various devices.
Streaming and Torrenting Capabilities
VPN users often rely on these services to stream geo-restricted content or torrent files securely. Reviewers evaluate the ability of VPNs to unblock streaming platforms and ensure smooth streaming without buffering or interruptions. Additionally, they assess the VPN's support for torrenting, verifying that it doesn't throttle or block torrent traffic.
Customer Support and Pricing
Customer support plays a vital role in addressing user queries and resolving technical issues promptly. Reviewers evaluate the responsiveness and effectiveness of VPN customer support channels, such as live chat, email, and phone support. Additionally, they assess pricing plans, considering factors like value for money, subscription options, and refund policies.
Additional Features and Functionality
Some VPNs offer additional features that enhance their appeal, such as split tunneling, ad blocking, and antivirus protection. Reviewers evaluate these features to determine their usefulness and effectiveness. While these features are not essential, they can add value to the VPN experience.
Conclusion
In summary, finding the best VPN for your iPhone in 2023 could be the game-changer for your online privacy and freedom. With the options we've discussed, you can secure your data, maintain anonymity, and freely access content from across the globe, regardless of geo-restrictions. Embrace the digital liberty that comes with a trustworthy VPN and never let location be a barrier to the content you love. For more insights on safeguarding your online experience and to stay updated with the latest in tech, be sure to follow our blog twistory.net.
See more related articles:

Top 10 Best VPN Alternatives in 2023
Best FREE VPNs for Torrenting – 2023 Picks